8 Easy And Cheap Things You Can Do To Transform Your Bathroom
Cringing every time you walk into your bathroom? You don't need to rip the whole thing out. "Reviving a tired washroom needn't require a total overhaul," said This Old House.
Indeed, small changes can help make it feel new again, and many of them are easy enough for you to do by yourself. Careful attention to the right materials can also keep these updates super affordable.
1. Paint
Choose a neutral color if you want a soothing backdrop for pops of color in your accessories, or a bolder shade that can create a glam space.
Or, "Create a striking monochromatic effect by painting walls to match your floors, as was done in this sunny space," said This Old House.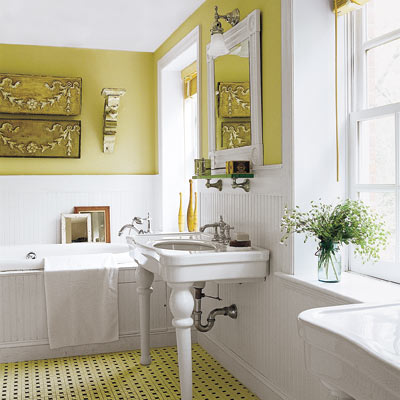 This Old House2. Forget the walls; paint your vanity instead!
A painted vanity can take your bathroom from blah to beautiful in an instant. Adding some bold hardware and matching fixtures is the extra touch that your bathroom needs to really shine. Here, the golden hues play beautifully off of the turquoise and white, but chrome would work equally well.

décor pad3. Replace your vanity
If your vanity's not worth salvaging, it might be time for a new one. The DIY Network calls a vanity replacement an "easy bathroom makeover" and provides step-by-step instructions. When it comes to what to replace the old one with, you can scour stores like Lowe's and Home Depot for sales or check out places like Second and Surplus. This 24-inch, soft close vanity with undermount sink is only $299.
Seconds and Surplus4. Address your floors
If your bathroom floors are grungy or grimy, a good scrubbing with a heavy-duty product is step one. But if your tile is old and ugly or you have vinyl that's seen better days, it might just be time to replace it. Laying new flooring might not be a DIY job depending what you have (We tried to do our own tile once, and we won't be repeating that mistake anytime soon.).
Our easy answer for ugly floors we're not ready to replace: a good throw rug. It's an easy and cheap, albeit temporary solution that can help distract you from a poor floor. Tip: get the biggest size you can find, which may mean buying a rug that's not necessarily intended for the bathroom. Be sure to ask the sales associate if the material is water resistant or you could end up with a mold problem.

Timberline Custom Homes5. Create a spa shower
You don't need thousands to create a shower that feels like you're in a resort. The Dreamspa Temperature Sensitive LED Combination Shower Head is under $80, and gives you a three-way water diverter, 30 water flow patterns, and even changes colors depending on the water temperature.
Prefer a rainhead? "They're softer and less grating, making each shower feel like a special occasion, not an obligation," said Elle Decor. "It doesn't have to be a big investment, either: This highly-rated rainfall-style showerhead costs less than $40.
6. Add shelving
Whether you lack storage or just want to add a focal point to your walls, open shelving may be your answer.

Care27. Cover up problem walls
Walls not looking so great? In many older homes, the texture can be uneven or problematic, and paint may not do the trick. Installing beadboard is an easy solution you can do on your own.
"Thriftier than most wall tile and less maintenance than wood, beadboard paneling made from cellular PVC stands up to sloshing and never needs to be painted," said This Old House. If white is too traditional for you, that's nothing a can of paint can't fix.

Pinterest8. Change out your lighting
You'd be surprised how big an impact a new light fixture can make in your bathroom. Not only will it bring a fresh, new focal point, but the light it gives off may also improve the entire look of the room. This easy DIY job can be done in a jif– the hardest part will probably picking out your new fixture!